Rita Reviews
Mummi Quilts Review with Giveaway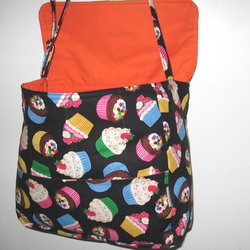 I love adorable items and this is by far one of the most adorable items I have seen lately! Mummi Quilts makes products that simply make you want to say " aww!" When I first visited this site I could not believe the wonderful products that are all handmade. The items made me think of all the wonderufl things my Grandma use to make for us kids when we were little. When I got the opportunity to work with Mummi Quilts I knew I was lucky! Mummi Quilts has it all! Everything from personalized diaper bags to shopping cart covers.
From Mummi Quilts Website:

The owner/designer Eeva is also called Mummi by her grandchildren (Mummi means grandma in Finnish). Her grandchildren gave her an inspiration to re-start sewing in a larger scale. It all started innocently when she made a quilt for both of them. Then friends and relatives ordered one…there was a request for a diaper bag…Mummi Quilts was born.

Mummi designsare unique and practical everyday baby items and luxurious baby gifts. Eeva is continuously designing new products with the designer fabrics and silky soft chenilles.

All the products are handmade with love and care at Mummi Studio in Canada.
TESTING MUMMI Quilts: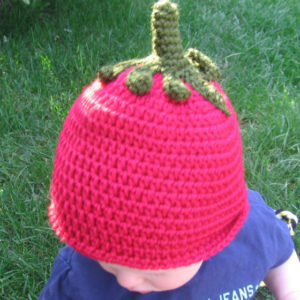 I recieved one of Eeva's beautiful crocheted hats which looks just like a strawberry. The very first thing I noticed was the beautiful workmanship that went into this hat. If you have never crocheted before let me tell you about the work that goes into this: My Grandma tried to teach me to crochet one summer and it took me an entire summer to crochet a scarf. If you drop one stich you have to pull out all the others and go back and fix the error. it is not easy and I bet this hat took Eeva all of an hour because once you learn and gte good at it you no longer have to even think about. My Grandma could crochet a blanket while watching the news. My daughter fell in love with this hat and I had a hard time getting away from her to review it. The color is so vibrant and beautiful.
PROS of Mummi Quilts:
Everything is handmade. You cannot get anything os higher quailty than a handmade item!
GREAT prices, beautiful pieces
Superior workmanship
CONS of Mummi Quilts: