Made of snails
Eeva is at it again. She now makes Crinkle Crackle Ribbon Sensory Toys! Since Sam LOVES to make noise now, this is the perfect on-the-go toy for him! Every time he gets in his car seat, he has to have it. This keeps him entertained during every car ride.
The Crinkle Crackle comes with a loop link that can easily be attached to baby's car seat or stroller strap so it doesn't get lost. They are available in the Groovy Guitars and Disco Dots fabrics and ribbons vary.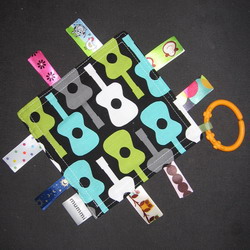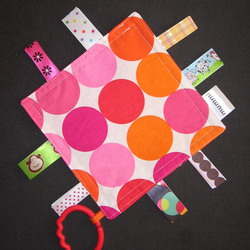 Eeva sent Sam the Groovy Guitars Crinkle Crackle.
Our overall opinion: 100% PERFECT!
If you are in the market for a unique, handmade gift - Mummi Quilts is the place to go!